all
research fellows
Prof. Dr. Silke Steets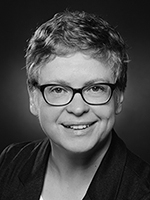 Areas of interest
Social theory
Urban religion
Sociology of knowledge
Materiality and architecture
Conversions: Transitioning from/to Evangelical Christianity in Leipzig and Dallas
In my project I compare two opposing conversion processes – one towards and one away from evangelical Christianity – and examine how religious and non-religious definitions of reality are distinguished and (re)composed in these processes. The project is empirically based on two interview samples from Leipzig and Dallas, which I collected for my ongoing DFG project "The Structure of Cognitive Minorities". Using the example of evangelical Christians in the highly secularized city of Leipzig (East Germany) and members of a Unitarian church in the conservative-protestant city of Dallas (Texas) the project deals with the question of how people whose worldview differs significantly from that of their social environment produce and maintain their respective definitions of reality. To explore this, I carried out ethnographic field observations over several months in an Evangelical congregation in Leipzig and a Unitarian church in Dallas and conducted biographical interviews with members of these groups. Interestingly, in both Leipzig and Dallas, many of these life stories revolve around conversion experiences: In Leipzig, the majority of the interviewees converted from a secular worldview to Evangelicalism; in Dallas, many Unitarians described themselves as "Recovering Baptists", i.e. as people who grew up in a conservative-Protestant social environment and emancipated themselves as adults (often with difficulties) from the worldview propagated there.

Based on the collected material the structure of these opposing conversion processes will be elaborated. The aim is to reconstruct in detail how religious and non-religious self and world interpretations are distinguished, (re)related and thus symbolically marked in the narrated conversions. This approach could connect well with the overall comparative perspective on reference problems pursued in the KFG. When it comes to investigating "secularities", understood as "forms of conceptual distinction and arrangements of social differentiation between religious and other social spheres, practices, interpretive frameworks, institutions and discourses", a close comparative look at biographical re-negotiations of worldviews and symbols can be a fruitful contribution to understanding the effects of "secularities" on the subjective level in different social environments. As the project deals with two contrasting cultural contexts in America and Europe, it is also aimed at contributing to a better understanding of the heterogeneity of "Western" secularities.
Biography
2019 – present
Professor of Sociology, Friedrich-Alexander-Universität Erlangen-Nürnberg (Germany)
Relevant Publications
Steets, Silke. "Wenn Atheisten beten: Zur rituellen Herstellung des Göttlichen im Sunday Service einer unitarischen Gemeinde in Dallas, Texas." In Ethnographie Der Situation: Erkundungen Sinnhaft Eingrenzbarer Feldgegebenheiten, edited by Angelika Poferl et al., 284-95. Essen: Oldib, 2020.
Steets, Silke. "Kognitive Minderheiten in Leipzig und Dallas: Zur Aktualisierung eines Religionssoziologischen Konzepts von Peter L. Berger." In Die Refiguration der Religion: Perspektiven der Religionssoziologie und Religionswissenschaft, edited by Hubert Knoblauch, 129–46. Weinheim: Beltz Juventa, 2020.
Knoblauch, Hubert, and Silke Steets. "Sacred Canopies and Invisible Religions: The Dialectical Construction of Religion in Berger and Luckmann." In Peter L. Berger and the Sociology of Religion: 50 Years after The Sacred Canopy, edited by Titus Hjelm, 85-101. London: Bloomsbury, 2018.
Berking, Helmuth, Silke Steets, and Jochen Schwenk, eds. Religious Pluralism and the City: Inquiries into Postsecular Urbanism. London: Bloomsbury Academic, 2018.
Berger, Peter L., Silke Steets, and Wolfram Weiße, eds. Zwei Pluralismen: Positionen aus Sozialwissenschaft und Theologie zu religiöser Vielfalt und Säkularität. Münster, New York: Waxmann, 2017.
Steets, Silke. "Seductive Atmospheres, Conflicting Symbols: Religious Landmark Buildings in Diverse Societies." Eurostudia 12, no. 1 (2017): 125–35.
Steets, Silke. "Pluralism in the Mind and the Structure of Cognitive Minorities." Society 54, no. 5 (2017): 439–44.
Steets, Silke. "Taking Berger and Luckmann to the Realm of Materiality: Architecture as a Social Construction." Cultural Sociology 10, no. 1 (2016): 93–108.
Steets, Silke. "Multiple Realities and Religion: A Sociological Approach." Society 51, no. 2 (2014): 140–44.