all
research associates
Prof. Dr. Sebastian Schüler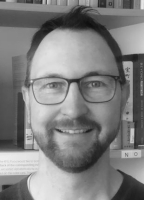 Areas of Interest
Evangelical and Charismatic Christianity
New Age Spirituality
History of Religion in the United States
Metaphor Analysis and Grounded Theory
Religious Movements
Metaphors of Distinction and Transgression - Conceptualizations of the Religious and Secular in the U.S.
This research project aims to investigate the use of metaphors in the communication of the Moral Majority and the Human Potential Movement in the USA between 1960 and 1989 by means of systematic metaphor analysis. The research project investigates how religious reality is constructed metaphorically and how religion is thereby also conceptually differentiated from its other/opposite or newly placed in relation to it. The aim is to draw conclusions as to why, in the processes of social differentiation in the second half of the 20th century, religion is being re-conceptualized in one way or another in certain religious milieus, to which socio-cultural processes and discourses it reacts, and which options for interpretation and action are associated with it. The project pursues the overarching hypothesis that the functional differentiation of society produces a plurality of conceptual distinctions and readjustments (transgressions) of religion and the secular and corresponding metaphorical frameworks. The two case studies therefore serve as two possible types of reaction to functional differentiation processes, each of which stands for different forms of conceptual de-differentiation of religion: The Moral Majority represents the type of de-differentiation of religion and politics and the Human Potential Movement represents the type of de-differentiation of religion and science. In both cases, the project investigates the implicit communicative distinctions and transgressions of religion and its other.
The project thus takes up a current debate on secularization theories and theories of differentiation in modern societies and aims to make an innovative contribution to it by asking about the metaphorical structures of religious communication through which conceptual distinctions and transgressions (and thus the cognitive framing of world views and ways of thinking) are made. The concepts of distinction and transgression describe a constant process of readjustment of social provinces of meaning and also postulate that the social process of differentiation generates a high dynamic of new conceptualizations. Accordingly, the project assumes that the analysis of metaphors can show how cognitive conceptualizations co-determine life-world perceptions and actions in social and religious movements. To this end, central and peripheral sources of the two movements will be sifted, explored, and selected in order to carry out in-depth metaphor analyses of key texts. The research design of the project is based on Grounded Theory Methodology and on the systematic analysis of metaphors according to George Lakoff and Mark Johnson and, in its further development, by Rudolf Schmitt.
Biography
Relevant Publications
Schüler, Sebastian, Bernadett Bigalke, and Jasmin Eder. "Runner's High: Conceptual Diffusion of Peak-Experience in the U.S. Human Potential and Jogging Movements." In Religion and Academia Reframed: Connecting Religion, Science, and Society in the Long Sixties, edited by Andrea Rota. 2022 (under review).

Schüler, Sebastin. "When Authority Fails: Cognitive Dissonance, Storytelling, and Collective Sense-Making in Unanswered Prayers." In Research in the Social Scientific Study of Religion. Vol. 32, Lesser Heard Voices in Studies of Religion, edited by Ralph W. Hood, and Sariya Cheruvallil-Contractor. Leiden: Brill, 2022.
Schüler, Sebastian. "Prayers and Stories as Media and Materiality: Changing Sources of Authority in the Emerging Church Movement." In Marginality, Media, and Mutations of Religious Authority in the History of Christianity, edited by Laura Feldt, 225-47. Leuven: Peeters Publishers & Booksellers, 2019.
Schüler, Sebastian. "Aesthetics of Immersion: Collective Effervescence, Bodily Synchronisation and the Sensory Navigation of the Sacred." In Aesthetics of Religion: A Connective Concept, edited by Alexandra Grieser, and Jay Johnston, 367-87. Berlin: DeGruyter, 2017.
Schüler, Sebastian. "Synchronized Ritual Behavior: Religion, Cognition and the Dynamics of Embodiment." In The Body and Religion: Modern Science and the Construction of Religious Meaning, edited by David Cave, and Rebecca Sachs Norris, 81-101. Leiden: Brill, 2012.