all
research fellows
Prof. Dr. Rinku Lamba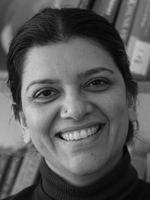 Areas of interest
Contemporary Political Theory (including multiculturalism and secularism)
Political Institutions
Modern Indian social and political thought
Bhakti and Its Influence on Cultures of Secularity and Democratic Social Imaginaries in India
In this project, I wish to consider the way conceptual resources for thinking about faith, hierarchies and normative orders offered by pre-colonial formations and practices of Bhakti link up with the social imaginaries that sustain modern Indian liberal democratic political thought. I will probe the as yet understudied political implications of the practices of bbhakti and suggest that an analysis of these practices can significantly contribute toward understanding aspects of the culture of Indian democracy. I will also consider how the moral vocabulary of Bhakti has influenced dominant articulations about appropriate modes of political action in modern Indian political thought. Through the aforementioned exercise I will critically evaluate those assessments of liberalism and secularism that consider these doctrines (i) to be tied ineluctably to cultural formations associated with the modern West, and (ii) thereby unsuited for polities such as India. More broadly, this study can supply the bases to consider the cultures of secularity in pre-colonial India, and allow both a careful and concrete consideration of the trajectory of a non-Western modernity as well as a comparative study of cultures of secularity. My hypothesis is, that Bhakti has shaped the culture of Indian democracy. Indeed, no account of the intellectual history underpinning the political choice in modern India of schemes such as affirmative action, legal pluralism, an interventionist model of secularism, and even the resilience with which Indian democracy has survived against 'all odds' can be complete without considering the role of Bhakti. In my research, the analysis of the culture of Indian democracy, because it is connected with a discussion of processes classified as "religious", will be interwoven with a discussion about the culture of secularity on the subcontinent.
Biography
2008
PhD, Political Science, University of Toronto (Canada)
Relevant Publications
Bramadat, Paul and Rinku Lamba, eds. "Special Section: Managing Religious Diversity in India, China and Canada." Studies in Religion/Sciences Religieuses, 45/4 (2016): 465–580.
Lamba, Rinku. "Gandhi's Response to Religious Conflict." Studies in Religion/Sciences Religieuses, 45/4 (2016): 470–5.
Lamba, Rinku. "Two Faces of State Power," in Recognition versus Self-Determination: Dilemmas of Emancipatory Politics. Edited by Avigail Eisenberg et al., 75–100. Vancouver: University of British Columbia Press, 2014.
Lamba, Rinku. "State Intervention in the Reform of a 'Religion of Rules': An Analysis of the Views of B.R. Ambedkar," in Secular States and Religious Diversity. Edited by Bruce Berman, Rajeev Bhargava, and André Laliberté, 187–206. Vancouver: University of British Columbia Press, 2013.
Lamba, Rinku. "Nationalism," in Indian Political Thought. Edited by Pradip Kumar Datta, Sanjay Palshikar, and Achin Vanaik, 121–49. New Delhi: Oxford University Press, 2013.
Lamba, Rinku. "Political Institutions for Remedying Caste and Sex-based Hierarchies: A View from Colonial India," in Accommodating Diversity: Ideas and Institutional Practices. Edited by Gurpreet Mahajan. New Delhi: Oxford University Press, 2011.
Lamba, Rinku. "Bringing the State Back in, Yet Again: The Debate over Socioreligious Reform in Late-Nineteenth-Century India." Comparative Studies of South Asia, Africa and the Middle East, 29/2 (2009): 186–200.
Lamba, Rinku. "Non-Domination and the State: A Response to the Subaltern Critique." European University Institute Working Paper MWP 2008/40. Florence: European University Institute, 2008.