all
research fellows
Prof. Dr. Jens Herzer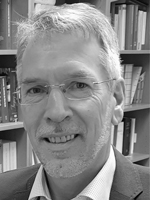 Areas of interest
Early Christianity in the Graeco-Roman World
Epicurean Philosophy
Pastoral Epistles
Ancient Judaism
Secular ethos and religious conviction. The encounter of early Christianity with Epicurean ethics and its conceptual transformation into a civil religion
The project's leading question is based on the insight that in the so-called "Pastoral Epistles" in the New Testament (the letters to Timothy and Titus), early Christians developed a secular or civil ethos. In the period I am focusing on (late 1st to late 2nd cent. CE) the social discourse on the political dimension of Epicurean ethos became very vibrant. The project aims at comparing basic positions and ideas of the secular ethical discourse with the reception and transformation of Pauline ethics particularly in 1Timothy, which results in a concept of a socially accommodated Christianity. This cultural transfer of a genuinely Christian ethos into a civil religion by engaging secular ideologies set the stage for the global proliferation of Christianity in the ancient world starting in the 2nd cent.
Biography
1991
Second theological examination and ordination as pastor of the Evangelical Lutheran Church in Thuringia, Germany

Relevant Publications
Herzer, Jens. "Zwischen Mythos und Wahrheit. Neue Perspektiven auf die sogenannten Pastoralbriefe." NTS 63 (2017): 428–50.
Herzer, Jens. "Gefäße zur Ehre und zur Unehre" (2 Tim 2,20). Metaphorische Sprache und Ethik in den Pastoralbriefen – eine Skizze." In Metapher – Narratio – Mimesis – Doxologie. Begründungsformen frühchristlicher und antiker Ethik. Edited by Ulrich Volp, Friedrich W. Horn, and Ruben Zimmermann, 24-48. Tübingen: Mohr Siebeck, 2016.
Herzer, Jens. "The Pastoral Epistles." In The Oxford Encyclopedia of the Bible and Ethics. Edited by Robert L. Brawley. Oxford, 2015.
Deines, Roland, Jens Herzer, and Karl-Wilhelm Niebuhr, eds. Neues Testament und hellenistisch-jüdische Alltagskultur. Tübingen: Mohr Siebeck, 2011.
Herzer, Jens. "Rearranging the 'House of God'. A New Perspective on the Pastoral Epistles." In Empsychoi Logoi — Religious Innovations in Antiquity. Studies in Honour of Pieter Willem van der Horst. Edited by Alberdina Houtman, Albert de Jong, and Magda Misset-van de Weg, 547-66. Leiden: Brill, 2008.
Herzer, Jens. "These things are excellent and profitable to everyone" (Tit 3:8): The Kindness of God as Paradigm for the Ethics." In Character Ethics and the New Testament. Moral Dimension of Scripture. Edited by Robert L. Brawley, 127-40. Louisville: Westminster/John Knox Press, 2007.