all
research fellows
Prof. Dr. Asonzeh Ukah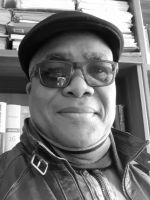 Areas of Interest
Pentecostalism
Sacred urbanism
Religious infrastructure
African Religions
Apocalyptic Politics of Prayer camps and the future of the Secular in Africa
My project explores and interrogates the multiplicity of conceptualisations, practices, sites, places and spaces of religious retreat centres found in many contemporary African cities and peri-urban environments. The proliferation of these sites, usually found on the fringes and edges of large urban conurbations, point to the tension in the relationship between urban life and sensibilities and sacred imperatives as interpreted by some religious entrepreneurs. With ethnographic data from a comparative research project carried out in two different prayer retreat sites, one in Lagos (Nigeria) and the other in Kampala (Uganda), my research seeks to interrogate the conceptual distinctions and socio(religious) differentiations between the secular domain or sphere and the sacred spheres as manifested and embedded in practices and rituals, doctrines and spatial orientations. My project investigates in what ways and processes emergent religious cities constitute structures of world-making and identity politics in a continent that is witnessing steady religious resurgence and entanglement between the religious and the public spheres (see Abbink 2014). A critical examination of the material production of sacred cities (prayer camps, miracle cities, retreat sites), which is the key objective of my project, offers the possibilities of divergent conceptions of the secular and alternate production of the future of the secular (in Africa as well as elsewhere). For example, at what point does a prayer camp, originally and ostensibly established and delineated as a sacred space/place morph into a secular city governed by the bureaucratic norms, template and rationality that mark cities out? How do the material productions of religion point to an emergent future of the secular in Africa where the postcolonial state is erected on a vestigial religious foundation and where passionately confessional citizens insist their faith in the supernatural conditions their material circumstances and experience?
Biography
03 - 04/2013
Senior Research Fellow/Lecturer, Department of Anthropology, University of Bayreuth, Germany
2013
Habilitation (Higher Doctorate), History of Religions, University of Bayreuth, Germany
2004
Dr. phil. (Magna cum Laude), History of Religions, University of Bayreuth, Germany
1999
M.Sc. Sociology, Department of Sociology, University of Ibadan, Nigeria
1997
M.A. Sociology of Religion, Department of Religious Studies, University of Ibadan, Nigeria
1994
B.A. Comparative Religion (1st Class Hons), Department of Reli­gious Studies, University of Ibadan, Nigeria
1988
Diploma (Religious Studies), University of Ibadan, Nigeria
Relevant Publications
Ukah, Asonzeh. "Prosperity, Prophecy and the COVID-19 Pandemic: The Healing Economy of African Pentecostalism." Pneuma: The Journal of the Society for Pentecostal Studies 42, no. 3–4 (2020): 430–59.
Ukah, Asonzeh. "'God Reload: The Pentecostal Political Transgression and Africa's Non-Secularity." In: Religion in the Era of Postsecularism, edited by Uchenna Okeja, 148–70. New York, NY: Routledge, 2020.
Ukah, Asonzeh. "Healing Humankind and Ritual Entrepreneurialism: The Faith of Unity Religion in Uganda." In: Law, Religion and Human Flourishing in Africa, edited by M. Christian Green, 225–41. Stellenbosch: SUN PReSS, 2019.
Ukah, Asonzeh. "'Everything is Plastic': The Faith of Unity Movement and the Making of a Post-Catholic Religion in Uganda." Journal of the Study of Religion 32, no. 2 (2018): 138–60.
Ukah, Asonzeh. "Emplacing God: The Social Worlds of Miracle Cities — Perspectives from Nigeria and Uganda." Journal of Contemporary African Studies 36, no. 3 (2018): 351–68.
Ukah, Asonzeh. "Building God's City: The Political Economy of Prayer Camps in Nigeria." International Journal of Urban and Regional Studies 40, no. 3 (2016): 524–40.
Ukah, Asonzeh. "The Midwife or the Handmaid? Religion in Political Advertising in Nigeria" In Religion and Society in the 21st Century, edited by Joachim Küpper, Klaus W. Hempfer, and Erika Fischer-Lichte, 87-114. Boston: De Gruyter, 2014.