all
research associates
Prof. David Koussens, PhD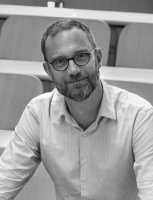 Areas of Interest
Secularism (Quebec, France, Belgium)
Secularism as a New Religion? Historical and Sociological Trajectories of the Centre d'Action laïque in Belgium
In Belgium, there are generally two widely recognized types of secularism. The first one is "political secularism", a political organizing principle that entails that the state be separated from and neutral towards all religious denominations in order to guarantee freedom of religion for all citizens, regardless of their beliefs. The second type of secularism is usually referred to as "philosophical secularism" and defined as "the adherence to a particular philosophical approach, characterized by the refusal of any reference to a revealed truth or to the existence of supernatural entities" (Jacquemain and Rosa-Rosso 2008).
Nowadays, philosophical secularism is mostly shaped and defended by atheist and free-thinking associations active within a field widely known as "organized secularism". Most of these associations have been active since the 19th century, but only began to collaborate in the 1960s as a reaction to the declining interest of non-denominational political parties in secular issues and in the fight against clericalism since the conclusion of the School Pact of 1958. The trigger for this restructuring of the secular network was the terrible fire in the main Brussels department store À l'Innovation on May 22, 1967, which killed 251 people. While all religious denominations were present at the ecumenical ceremony that was organized after the fire, there was no representation of non-believing victims. In reaction, a dozen associations of atheists and freethinkers decided to join forces and created, in 1969, a structure called Centre d'action laïque (Secular Action Center). The Centre progressively became the main promoter of philosophical secularism through its activities of teaching, moral assistance and culture thanks to a growing territorial network of secular associations through French-speaking Belgium.
The first decade of the Centre's existence provides a striking example of what DiMaggio and Powell (1983) called "institutional isomorphism". On the one hand, the Centre defines secularism in order to give it a substantive moral content. On the other hand, it borrows most of its rituals from confessional cults/religions (secular ceremonies for youth, which celebrate the passage from childhood to adolescence; secular "godfather" and "godmother" ; secular marriages…) in order to provide moral assistance to atheists according to a non-denominational conviction of conscience. Progressively recognized by the Belgian State, the Centre d'action laïque even gained access to the public financing of cults in 2001. Since that date, it is officially considered a non-denominational cult/religion.
This unique trajectory is very interesting from a sociological point of view. Secularism is no longer limited to a principle of political organization, but it is fully integrated into a belief universe. Surprisingly, no academic research has been carried in Belgium on this phenomenon. In this context, my research looks at the universe of belief of the Belgian philosophical secularism and analyses the secular rituals implemented by the Centre d'action laïque.
Biography
2017
Visiting scholar, Faculty of Law, Université Saint-Louis-Bruxelles (Belgium)
2017
Visiting professor, ESPE d'Aquitaine, Université de Bordeaux (France)
2016 - 2021
Associate professor, Faculty of Law, Université de Sherbrooke (Canada)
2013
Visiting scholar, Centre Perelman de Philosophie du droit, Université libre de Bruxelles (Belgium)
2011 - 2015
Assistant professor, Faculty of Theology and Religious Studies, Université de Sherbrooke (Canada)
2011
PhD. Sociology, Université du Québec à Montréal (Canada)
Relevant Publications
Koussens, David. "La séparation des Églises et de l'État en France: Variations sur un même thème." In "La laïcité sans voile," edited by Cécile Laborde, and Catherine Audard. La revue Tocqueville/The Tocqueville Review 44, no. 4 (forthcoming 2023).
Koussens, David, and Windisch Thomas. "Hors norme! L'engagement LGBTQ et la laïcité." Sociologie et sociétés, (forthcoming 2023).
Koussens, David. Secularism(s) in Contemporary France: Law, Policy and Religious Diversity. Cham: Springer, 2023.
Koussens, David, Jean-François Laniel, and Jean-Philipp Perreault. "SQER: Establishing the Sciences of Religion in Quebec; A Works Still in Progress." Studies in Religion 50, no 3 (2021): 375-87.
Koussens, David, "Nationalistic Secularism and the Critique of Canadian Multiculturalism in Quebec." In Citizenship and Belonging in France and North America: Multicultural Perspectives on Political, Cultural and Artistic Representations of Immigration, edited by Ramona Mielusel, and Simona Pruteanu, 17-32. London: Palgrave Macmillan, 2020.
Koussens, David, Xavier Delgrange, and Bertrand Lavoie. "La neutralité religieuse des fonctionnaires au Québec et en Belgique: Enjeux constitutionnels." Revue belge de droit constitutionnel, no. 4 (2020): 393-423.
Delgrange, Xavier and David Koussens. "La fabrique de la laïcité par le juge: Éléments de comparaison Belgique-France-Québec." Revue interdisciplinaire d'études juridiques 85 (2020): 93-127.
Dejean, Frédéric, Bertrand Lavoie, and David Koussens. "Gestion asymétrique du religieux dans les établissements d'enseignement supérieur québécois." Sciences religieuses 49, no 3 (2020): 328-46.
Koussens, David. "La sécularisation de la laïcité organisée en Belgique." Social Compass: Revue Internationale de Sociologie des Religions 67, no 2 (2020): 206-20.
Delgrange, Xavier, and David Koussens. "Quelles laïcités en salle d'audience? À propos de quelques arrêts canadiens et européens sur le port de symboles religieux dans les prétoires." Revue trimestrielle des droits de l'homme 118 (2019): 447.
Amiraux, Valérie and David Koussens. "From Law to Narratives: Unveiling Contemporary French Secularism." In Multireligious Society. Dealing with Religious Diversity in Theory and Practice, edited by Francisco Colom Gonzalez, and Gianni D'Amato, 117-32. New York, NY: Routledge, 2017.
Koussens, David. "Pour des recherches sociographiques sur la laïcité au Québec." Recherches sociographiques 57, no. 2-3 (2016): 275-87.
Koussens, David. L'épreuve de la neutralité: La laïcité française entre droits et discours. Bruxelles: Bruylant, 2015.