all
research fellows
PD Dr. Silke Steets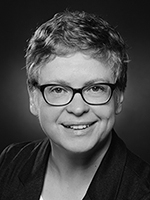 Areas of interest
Urban religion
Sociology of knowledge
Materiality and architecture
The Structure of Cognitive Minorities: Evangelicals in Leipzig and Unitarians in Dallas
The objective of this research project is to ascertain how "cognitive minorities", that is, people whose worldview deviates significantly from the one generally taken for granted in their social environment maintain their definition of reality. More precisely, I will reconstruct how a distinctive group of religious believers (Evangelical Protestants) in a strongly secular city (Leipzig) defines its reality and how this is done by a group of skeptics and seekers (Unitarians) in a city characterized by evangelical spirituality (Dallas). Adopting a theoretical perspective based on the sociology of knowledge, I assume that definitions of reality are constructed and maintained through permanent interaction between the subjective level of consciousness (that implies specific distinctions between religious and secular 'facts') and the objective level of institutions and shared structures of meaning (that are grounded in the differentiation of religious and secular spheres and practices). For investigating the interaction between these two levels I chose an ethnographic research design with a Grounded Theory methodology that combines participant observation with narrative interviews. Following up current debates in the sociology of religion, the project is intended to make an empirically-based micro-sociological contribution to evaluate the relationship of religion and modern society, and thereby contribute to the further conceptual development of the multiple secularities approach.
Biography
Relevant Publications
Knoblauch, Hubert, and Silke Steets. "Sacred Canopies and Invisible Religions: The Dialectical Construction of Religion in Berger and Luckmann." In Peter L. Berger and the Sociology of Religion: 50 Years after The Sacred Canopy. Edited by Titus Hjelm. London: Bloomsbury, forthcoming.
Berking, Helmuth, Silke Steets, and Jochen Schwenk, eds. Religious Pluralism and the City: Inquiries into Postsecular Urbanism. London: Bloomsbury Academic, 2018.
Berger, Peter L., Silke Steets, and Wolfram Weiße, eds. Zwei Pluralismen: Positionen aus Sozialwissenschaft und Theologie zu religiöser Vielfalt und Säkularität. Münster, New York: Waxmann, 2017.
Steets, Silke. "Seductive Atmospheres, Conflicting Symbols: Religious Landmark Buildings in Diverse Societies." Eurostudia 12, no. 1 (2017): 125–35. doi:10.7202/1041666ar.
Steets, Silke. "Pluralism in the Mind and the Structure of Cognitive Minorities." Society 54, no. 5 (2017): 439–44. doi:10.1007/s12115-017-0167-0.
Steets, Silke. "Taking Berger and Luckmann to the Realm of Materiality: Architecture as a Social Construction." Cultural Sociology 10, no. 1 (2016): 93–108. doi:10.1177/1749975515616652.
Steets, Silke. "Multiple Realities and Religion: A Sociological Approach." Society 51, no. 2 (2014): 140–44. doi:10.1007/s12115-014-9753-6.