all
research fellows
Dr. Ülker Sözen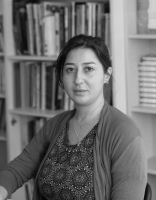 Areas of Interest
Social media and digital communication
Identity and memory politics
Kurdish and Alevi studies
Civil society and social movements
Youth, Religion, and Secularism in the Digital Landscape: Polarization and Transformation in Contemporary Turkey
Turkish society has undergone a slew of changes during the Justice and Development Party's (AKP) two-decade rule, at the crossroads of the country's shifting geopolitical orientation and the reconfiguration of its cultural and political contours. Since the early 2010s, the AKP's governance has relied on authoritarian populism and an amplified polarizing strategy primarily along the religious-secular divide. In line with this agenda, the party has prioritized youth and education policies to raise a pious generation that is subservient to the state, familial and patriarchal authority, and conservative religious values.
In addition to political reorganization and top-down interventions in public life, several key factors, such as the growing income disparity, economic crisis, and mass migration from the Middle East, have influenced the lines of demarcation and convergence in contemporary Turkish society. These developments have resulted in shifting understandings of and attitudes toward religiosity, which are more visible among younger generations. In response, both AKP elites and opposition actors have begun to debate the alleged rise of atheism and agnosticism in society, particularly among the youth popularly labelled "Generation Z."

While religiosity among the youth takes divergent forms that contradict the AKP's intentions, the conventional framework of secular (laik) versus religious (dindar) social camps fails to capture the multiplying perceptions and stances toward Islam. Similarly, we can observe a diversity of perspectives and practices regarding secularity, both as a political identification indicating opposition to political Islam and more mundane and less politicized attitudes in favor of separating religious norms from the organization of public and private lives. The meanings, lifestyle preferences, and political positionings associated with religiosity and secularity are complex and dynamic, as they are actively negotiated in diverse social settings, sometimes in contradictory ways.
Furthermore, digital communication technologies and social media, which provide a ubiquitous environment of everyday experience, transform and add new dimensions to religiosity and secularism. The flow of global cultural trends and discourses and the immediate mode of interaction in online platforms are factors that induce such reconfigurations. In this regard, this research project moves from the hypothesis that the experiential and discursive content centered on youth, particularly on digital platforms, provides a fertile ground for multiple and complex semantics, unconventional social convergences, and diversification/ hybridization of identities associated with piety and secularism.

In this light, this project will analyze youth experiences and discourses about youth in the Turkish digital landscape in relation to issues of religiosity and secularism. To that end, I will examine social media platforms like Twitter, TikTok, and YouTube, as well as interactive websites and online forums. The research will focus on personal and intimate areas of experience such as sexual practices, romance, dating, fashion, and self-care. By focusing on such seemingly less-politicized fields of experience, I intend to better observe the agency of social actors that could complicate as well as emulate hegemonic political discourses. Moreover, the ability to remain anonymous and/ or re-invent one's public self in the digital landscape may provide more space to move beyond polarized identities and engage with various subject positions.

The project will employ digital ethnography, social media and network analysis, and multi-leveled discursive analysis as methods. Through this triangulation and by focusing on multiple social media platforms, I intend to map out the diverse patterns of negotiating religious and secular ways of being in the world. This methodology will also allow to delve deeper into the emotions, expectations, desires, and grievances expressed by social actors.
Biography
2021 - 2022
Visiting Researcher, Social Work as a Human Rights Profession Master's Programme, Alice Salomon Hochschule, Berlin (GER)
2012 - 2017
Teaching Assistant, Sociology Department, Mimar Sinan University of Fine Arts, Istanbul (TUR) & Munzur University, Tunceli (TUR)
2017
Ph.D. (Dr. Phil) Sociology, Mimar Sinan University of Fine Arts, Istanbul (TUR)
2012
Ph.D. Candidate, Ataturk Institute for Modern Turkish History, Boğaziçi University, Istanbul (TUR)
2010
M.A., Comparative Studies in History and Society, Koç University, Istanbul (TUR)
2008
B.A., Sociology Department, Boğaziçi University, Istanbul (TUR)
Relevant Publications
Sözen, Ülker. "Production of Activism under Authoritarianism: Insights from the rights-based Civil Society in Turkey." In Global Authoritarianism: Perspectives and Contestations from the South, edited by International Research Group on Authoritarianism and Counter-Strategies, 281–296. Bielefeld: transcript, 2022.
Sözen, Ülker. "Civil Society under Siege in Turkey: Authoritarianism, Polarisation and Counterstrategies." Humanitarian Alternatives 20 (2022): 74–83.
Sözen, Ülker. "Culture, Politics and Contested Identity among the 'Kurdish' Alevis of Dersim: The Case of the Munzur Culture and Nature Festival." Journal of Ethnic and Cultural Studies 6, no. 2 (2019): 63–76.