all
research associates
research fellows
Dr. Nader Sohrabi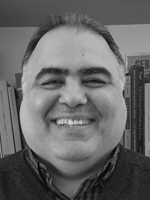 Areas of interest
Ottoman history
Iranian history
comparative/historical sociology
sociology of culture
sociological and anthropological theory
social movements
political sociology
Biography
2017
Leibniz Fellow, Leipzig University (Germany)

Relevant Publications
Sohrabi, Nader. Revolution and Constitutionalism in the Ottoman Empire and Iran. New York: Cambridge University Press, 2011.
Sohrabi, Nader. "Historicizing Revolutions: Constitutional Revolutions in the Ottoman Empire, Iran and Russia, 1905-1908," in American Journal of Sociology 100/6 (1995): 1383-1447.
Sohrabi, Nader. "Revolution and State Culture: The Circle of Justice and Constitutionalism in 1906 Iran," in State/Culture: State-Formation after the Cultural Turn. Edited by G. Steinmetz, 253-288. Ithaca: Cornell University Press. 1999.
Sohrabi, Nader. "Global Waves, Local Actors: What the Young Turks Knew About Other Revolutions and Why it Mattered," in Comparative Studies in Society and History 44/1 (2002): 45-79.
Sohrabi, Nader. "Revolutions as Pathway to Modernity," in Remaking Modernity: Politics, History, and Sociology. Edited by J. Adams, E. S. Clemens, A. S. Dorloff, 300-329. Durham: Duke University Press. 2005.
Sohrabi, Nader. "Illiberal Constitutionalism: The CUP as a Clandestine Network and the Purges," in L'ivresse de la liberté. Edited by F. Georgon. Louvain: Peeters. 2012.
Sohrabi, Nader. "State Building in the Ottoman Empire and Iran," in Oxford Contemporary Middle East and North Africa Handbook. Edited by J. Hanssen, and A. Ghazal. New York: Oxford University Press. (Forthcoming)
Sohrabi, Nader. "Reluctant Nationalists, Imperial Nation State and Neo-Ottomanism: Antinomies of the End of Empire" in Social Science History Journal. (Forthcoming)