all
research associates
Dr. Liudmila Nikanorova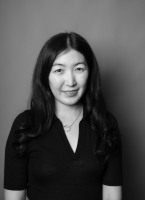 Areas of Interest
Processes of shamanism-making, particularly Siberian shamanism-making
Translations and uses of 'religion' in Sakha context
Theory and method in the study of religion
The Governmateriality of Indigenous Religions
In my research, I problematize shamanism as an analytical category and challenge it through critical reading of scholarship about the area that has attracted scholars and travelers in search of Siberian shamanism – Sakha Sire [Sakha: 'Sakha Land'], currently known as the Sakha (Yakutia) Republic.

The term 'shaman' entered European and then global imaginations and vocabularies through the writings of the eighteenth-century travelers and missionaries and was reserved to Siberian practitioners to mark their assumed ethnic and civilizational differences. With the added -ism, shamanism became one of the comparative imagined commonalities of people grouped by Eurocentric thinkers into 'tribal', 'primitive', 'aboriginal' in English and Naturvölker (in contrast to European Kulturvölker) in German. Sakha practitioners were translated into 'shaman' and described as 'hysterical, crazy and wacky devil-worshippers' (e.g. Sieroszewski 1896, Khudyakov 1896). These translations towards religion and shamanism subjected Sakha practitioners to imprisonment and eradication as a result of anti-religious Soviet policies (Znamensky 2001, Vasil'eva 2000).

A number of scholars urged fellow colleagues to abandon the terms 'shamans' and 'shamanism' as analytical categories (Shirokogoroff 1935, Rydving 2011). However, these categories are still used analytically and dominate the field to this day, partly due to the legacy of Mircea Eliade (1972) and Michal Harner (1980).

I argue that such translations homogenize and shamanize Sakha practitioners and practices, which could be described in a variety of ways that might or might not be identified as religious or secular. Moreover, I stress that the study of shamanism tells us more about the colonial legacies, the need for juxtaposition against the emerged paradigm of world religions, and the role of scholarly categories than about the practices and people who inhabit the imagined region of Siberia.
Biography
2021 - present
Post-doctoral fellow, "The Governmateriality of Indigenous Religion(s)" (GOVMAT), University of Bergen, Norway
2014 - 2015
University Lecturer, North-Eastern Federal University, Yakutsk, Russia
2007 - 2012
MA History and Ethnography, North-Eastern Federal University, Yakutsk, Russia
Relevant Publications
Nikanorova, Liudmila. "The Role of Academia in Finding, Claiming, and Authorizing Sakha Religions." In Religions around the Arctic: Source Criticism and Comparisons, edited by

Håkan

Rydving, and

Konsta

Kaikkonen, 255–75. Stockholm: Stockholm University Press, 2022.
Nikanorova, Liudmila. "Religion-Making at the Sakha Yhyakh." Anthropology & Archeology of Eurasia 59, no. 1 (2020): 29–51.
Nikanorova, Liudmila. Religion and Indigeneity at Yhyakh. Doctoral dissertation, UiT The Arctic University of Norway, 2019.