all
research fellows
Dr. Katharina Wilkens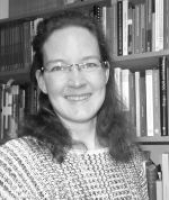 Areas of interest
History of religions in Africa
Aesthetics of religion/material religion
Secularity in contexts of alternative medicine, memory and migration
Spirit possession, ancestor spirits
Ancestor Spirits in Secular Society – Negotiating Agency, Space and Heritage in Africa and Beyond
In contemporary African communities, rituals of communication with the ancestors navigate between fields of religion, kinship, heritage and art. In urban centres, and through global migration, traditional forms of kinship are being broken up, but the dynamic re-imaginings of ancestral rituals indicate that ancestry as part of collective identity continues to be a vital part of social organisation. In the post-colonial setting, urban generations are characterised by a subjectivity of rupture from the pre-colonial past. Current revitalisation of traditional practices of ancestral rituals explicitly addresses this gap by creating imagined webs of kinship, based both on factual genealogy and the re-rooting of identity in spaces of ancestral homeland. My research, therefore, focuses on the possibilities and the limits of imagined spaces and factual materiality, in discourses of ancestral identities in mobile urban communities of the 21st century.

Methodological and typological reflections in this project concern the ways in which spirit agency can be conceptualised, ranging from (archival) ancestors-as-forebears, to ancestor spirits with disruptive powers over their descendants, and mediumship. Following from Seiwert's discussion of ancestor veneration in China, in which he distinguishes between naturalist and supranaturalist attitudes, I trace the reframing of African practices, as they reflect changing normativities. While traditional medicine is divested of spiritual agency in a process of biomedicalisation, heritage is spiritualised through sacrifices in football stadiums, or through spirit mediumship as genealogical work.

Even though the agency of spirit beings might put ancestral mediation squarely in the bracket of 'religion', the motivation for communicating with them highlights the search for distinct family histories, thus re-defining one's own and one's family's place over and against ruling administrations and dominant religious institutions. Taking secularity as a "modality of making distinctions", this project aims at theorising the place of kinship and ancestry in modern African communities. I describe identities premised on social and geographical mobility, thus creating imagined kinship communities beyond the boundaries of village shrines and closely defined lineages.
Biography
Relevant Publications
Koch, Anne, and Katharina Wilkens, eds. The Bloomsbury Handbook of the Cultural and Cognitive Aesthetics of Religion. London: Bloomsbury Academic, 2019.
Wilkens, Katharina. "Narrating Spirit Possession." In Narrative Cultures and the Aesthetics of Religion. Edited by Dirk Johannsen, Anja Kirsch, and Jens Kreinath, 45–65. Leiden, Boston: Brill, 2020.
Wilkens, Katharina. "Text Acts", In The Bloomsbury Handbook of the Cultural and Cognitive Aesthetics of Religion. Edited by Anne Koch and Katharina Wilkens, 155-64. London: Bloomsbury Academic, 2019.
Wilkens, Katharina. "'Instant miracles are rare, but it happened to me' – Faith Healing in Urban Tanzania." Numen 65, no. 2-3 (2018): 207–31.
Wilkens, Katharina. "Masken, Opfer, Trance, Wallfahrt. Vom rituellen Umgang mit Ahnengeistern in Tansania." In Wege zum Menschen. Zwischen Diesseits und Jenseits. Begegnung mit verschiedenen Wirklichkeiten. Edited by Sabine Kast-Streib and Gernot Meier, 458-68. 2017.
Wilkens, Katharina. "Infusions and Fumigations: Literacy Ideology and Therapeutic Aspects of the Qur'an." In Sensing Sacred Texts. Edited by James W. Watts, 115-36. Sheffield, Bristol: Equinox Publishing, 2018.
Jens Kugele, Katharina Wilkens. "Relocating Religion(s)—Museality as a Critical Term for the Aesthetics of Religion." Journal of Religion in Europe, no. 4.1 (2011): 7-13.