all
research associates
Dr. Dagmar Schwerk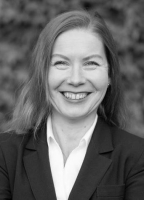 Areas of interest
Tibetan and Bhutanese intellectual and political history
Buddhist concepts of state, governance, societal structure and civil society
Application of Buddhist ethics and meditation in secular contexts in Asia and the West
Indo-Tibetan Buddhism
Bhutan in Transition. Metamorphosis and Institutionalisation of Buddhist Concepts
My current research focuses on Bhutan's development path since its foundation in the seventeenth century and intends to identify Buddhist and secular guiding ideas and knowledge systems, as well as boundary demarcations and differentiation processes between religious and other societal spheres along with related reference problems in Bhutan from a diachronic perspective. Bhutan's modernisation is commonly represented by the international media as synonymous with the idea and policies of Gross National Happiness (GNH). GNH has been met with widespread appreciation and popularity outside of Bhutan with respect to the facilitation of happiness and well-being for its citizens being the aim of policies, and the fact that it is cemented in the Constitution of Bhutan. In particular, Bhutan's creation and implementation of an alternative economic model of sustainable development for the environment, based on the principles of Buddhist ethics, has awoken international interest. In the first half of the seventeenth century, the Tibetan cultural area witnessed the establishment of three governments characterized by a twofold system of religious and secular power under the control of a Buddhist master or Buddhist king, although there was a great difference in their respective institutionalisation. The State of Bhutan was founded by the charismatic Buddhist master, Zhabs-drung-ngag-dbang-rnam-rgyal in 1625/1626; in 1642 Tibet followed with the government of the great Fifth Dalai Lama Ngag-dbang-blo-bzang-rgya-mtsho, and Sikkim with the Buddhist king Phun-tshog-rnam-rgyal. The Bhutanese government, the only one among the three still in existence, can, as a case study, provide unique insights into Buddhist civilisations and their transformation into modern societies — in the case of Bhutan, the transformation into a modern-day constitutional parliamentarian monarchy with a Buddhist king. Such Buddhist-influenced concepts and terms as the twofold religious and secular governmental structure, well-being and happiness of the citizens, as well as a harmonious society where a just Buddhist king rules and the Buddhist doctrine flourishes are not only found in earlier textual sources from Bhutan—such as Zhabs-drung-ngag-dbang-rnam-rgyal's civil and monastic codes with their later standardised versions, his personal seal, and his dresscode and etiquette — but go far back into Tibetan and Indian history. By analysing the content of these concepts and terms, as well as their metamorphosis and institutionalisation, they serve as the basis on which to determine pre-modern and modern boundary demarcations and differentiation processes—and thereby types of secularity. Furthermore, extending beyond Bhutan, I intend to develop a general categorisation and typology of the collected concepts and terms found in Buddhist textual sources as a starting point for future research.
Biography
2012 – 2014
Lecturer, Department of Indian and Tibetan Studies, Hamburg University

2012
M.A. (Magistra Artium),Tibetan studies, Classical Indology, Political Science, Hamburg University

2010 – 2011
Student assistant, teaching classical Tibetan, Department of Indian and Tibetan Studies, Hamburg University
Relevant Publications
Schwerk, Dagmar. 2021. "Drukpa Kagyü School (Bhutan)." In Database of Religious History. Vancouver: University of British Columbia, 2021.
Schwerk, Dagmar. A Timely Message from the Cave: The Mahāmudrā and Intellectual Agenda of dGe-bshes Brag-phug-pa dGe-'dun-rin-chen (1926–1997), the Sixty-Ninth rJe-mkhan-po of Bhutan. Indian and Tibetan Studies 11. Hamburg: Department of Indian and Tibetan Studies, Universität Hamburg, 2020.

Schwerk, Dagmar. "Drawing Lines in a Maṇḍala: A Sketch of Boundaries Between Religion and Politics in Bhutan." Working Paper Series of the CAHSS "Multiple Secularities – Beyond the West, Beyond Modernities" 12. Leipzig: Leipzig University (openly peer-reviewed within the research group), 2019.
Schwerk, Dagmar. "Buddhism and Politics in the Tibetan Cultural Area." In Companion to the Study of Secularity, edited by CAHSS "Multiple Secularities – Beyond the West, Beyond Modernities." Leipzig: Leipzig University, 2019.
Schwerk, Dagmar. "The Pointed Spear of a Siddha and its Commentaries: The 'Brug pab ka' brgyud School in Defence of the Mahāmudrā Doctrine," Revue d'Etudes Tibétaines 37 (2016): 352-73.