all
research fellows
Dr. Christian Mauder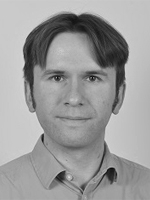 Areas of interest
Intellectual history of the Islamic middle and early modern periods
Cultural, social, religious and political history of the Mamluk Sultanate
Islamic court culture
Christian missionary history in the Arab World
Exegesis and translation of the Quran
Eschatology in Islamic thought
A Sign of God or a Matter of Physics? Cosmology and Cosmography between Revealed Knowledge and Secular Philosophy in Medieval Sunni Islam
This project analyzes the differentiation between revelation-based (Ar. sharʿī) systems of world explanation and Peripatetic and Neoplatonic philosophy (falsafa) in pre-modern Sunni Muslim societies by focusing on questions about the origin of the cosmos and its internal structure. In particular, it asks how the competing claims about the origin of the world and its make-up inherent in these two knowledge systems – one of which was based primarily on the Quranic revelation, while the other built on the Hellenistic intellectual heritage – were constructed, presented, discussed, integrated and refuted by Sunni Muslim thinkers during the Islamic middle period (ca. 1050-1520 CE). It thereby understands the development of the secular tradition of falsafa in Islamic societies as a reaction to the societal reference problem of religious heterogeneity which all Islamic polities of the middle period faced. Here, the secular tradition of falsafa offered a unique possibility to mediate conflicts between various religious groups by providing inter alia a system of world explanation that did not rest on revelation-based and therefore community-specific and contested foundations. Taking seriously emic categories of knowledge classification in medieval Arabic-speaking societies, the project contributes not only to a deeper understanding of the differentiation and co-existence of secular and revelation-based knowledge systems in pre-modern non-Western societies in general, but also revisits the question of a so called "naturalization" (Sabra 1987) of Greek-inspired secular philosophy in late medieval Sunni Islam, i.e., an alleged process through which secular knowledge became integrated in such a way into an Islamic religious world view that it lost its original characteristics and became part of a revelation-based system of world explanation. Moreover, the project argues that the particular configuration of secular and revelation-based traditions of cosmology and cosmography that developed during the Islamic middle period had a profound impact on how Muslims scholars perceived Western secular narratives of world explanation during the colonial period. In particular, when first encountered, Western secular concepts of physical laws and causality, while opposed to the teachings of the dominant school of Sunni theology, were perceived as in line with autochthonous traditions of philosophical thought. Hence, the traditions of secular cosmology and cosmography that had developed during the middle period influenced considerably both the emergence of modern secular worldviews in the Islamic world and the ways these worldviews are expressed in emic terminology.
Biography
Relevant Publications
Mauder, Christian. Gelehrte Krieger:: Die Mamluken als Träger arabischsprachiger Bildung nach al-Ṣafadī, al-Maqrīzī und weiteren Quellen. Arabistische Texte und Studien 18. Hildesheim: Olms, 2014.
Mauder, Christian. "Herrschaftsbegründung durch Handlung. ʿAbd al-Bāsiṭ al-Malaṭīs (st. 1514 in Kairo) 'al-Maǧmūʿ al-bustān an-nawrī' ('Die erblühende Gartensammlung')." Das Mittelalter: Perspektiven mediävistischer Forschung, no. 20.1 (2015): 29–46.
Mauder, Christian. "A New Source on the Social Gatherings (majālis) of the Mamluk Sultan Qānṣawh al-Ghawrī." Al-ʿUsur al-Wusta, no. 24 (2016): 145–48.
Mauder, Christian. "Jalāl al-Dīn al-Suyūṭī's Stance toward Worldly Power:: A Reexamination Based on Unpublished and Understudied Sources." In Al-Suyūṭī, a Polymath of the Mamlūk Period: Proceedings of the themed day of the First Conference of the School of Mamlūk Studies. Edited by Antonella Ghersetti, 81–97. Leiden, Boston: Brill, 2016.