all
research fellows
Dr. Bernadett Bigalke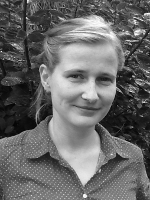 Areas of interest
Religion and medicine
Esotericism
History and sociology of the human body
New religious movements in the 19th and 20th century
Religious and medical discourses on demonstrative female fasting practices within European Catholicism
Extreme fasting practices have been part of Christian piety since antiquity, primarily in monastic contexts. Later, in the early modern period, they formed part of practices focusing on the Passion of Jesus that were carried out by laypeople. This comparative case study concentrates on laywomen and the cults emerging around them in the 19th and 20th century in Western Europe.
There has been strong criticism of extreme fasting practices since at least the 18th century. For example, during the Enlightenment, members of the scientific community labelled the practices as illegitimate attempts to deceive gullible believers who were constantly seeking miracles. They expressed concerns that the public would fall prey to such 'false sanctity'. Alternatively, the young women were presented as socially underprivileged and mentally ill and in need of proper medical treatment. This debate soon became part of public discourse. Religious and non-religious actors discussed it at great length.
From a Study of Religions perspective, no judgment shall be made regarding whether these practices and the motivations behind them are (in)authentic, (il)legitimate, or pathological forms of Christian piety. What is interesting, is that formerly unproblematic religious bodily practices became controversial and even a medical and political issue. It is important to reconstruct extreme fasting as a form of Catholic practice that had its own cultural logic and internal dynamic (victim spirituality, contemporary miracle and sanctity discourse). In terms of theoretical approach, the primary focus will be on the contemporary concepts of person/personality involved, exploring this in terms of agency. Secondly, aspects of the fasting practices can be regarded as a non-verbal system of symbols, which falls under religious history of the body. Thirdly, as nearly all of those who were fasting were female, questions of gender specifics in relation to religious fasting must be raised.
Biography
2003
Magistra Artium, Study of Religions and Anthropology, Leipzig University, Leipzig (GER)

Relevant Publications
Bigalke, Bernadett. ""Psychopathisch" und "gemeingefährlich": Die Behörden und Ludwig Haeusser," in Krise und religiöser Wahnsinn – Crisis and Religious Madness. Edited by Sebastian Schüler and Alexander van der Haven. Würzburg: Ergon, 2017 [in press].
Bigalke, Bernadett. Lebensreform und Esoterik um 1900: Die Leipziger alternativ-religiöse Szene am Beispiel der Internationalen Theosophischen Verbrüderung. Würzburg: Ergon, 2016.
Bigalke, Bernadett. "Gesundheit und Heil: Eine ideengeschichtliche Spurensuche zur Einordnung der Mazdaznan-Bewegung in ihren Entstehungskontext." Gesnerus 69/2 (2012): 272–96.
Bigalke, Bernadett. "Rezension zu Mildenberger, Florian: Medikale Subkulturen in der Bundesrepublik Deutschland und ihre Gegner (1950-1990), Stuttgart 2011." Gesnerus, 69/1 (2012): 196–97.
Bigalke, Bernadett, Jeannine Kunert, and Katharina Neef. "Europa als religionswissenschaftliches Feld: Europäische Religionsgeschichte revisited." Religion-Staat-Gesellschaft, 12/2 (2011): 317–42.
Bigalke, Bernadett. "Heilung durch Wasser, Erde, Luft und Licht: Die Naturheilkunde in Leipzig," in Von Aposteln bis Zionisten: Religiöse Kultur im Leipzig des Kaiserreichs. Edited by Iris Edenheiser, 128–37. Marburg: Diagonal Verlag, 2010.
Bigalke, Bernadett. "Von Aurenforschung und Reinkarnation: Die Theosophen," in Von Aposteln bis Zionisten: Religiöse Kultur im Leipzig des Kaiserreichs. Edited by Iris Edenheiser, 185–94. Marburg: Diagonal Verlag, 2010.
Bigalke, Bernadett. "Der Theosoph Hermann Rudolph: Ein Lehrer aus Berufung." Religion-Staat-Gesellschaft, 9/1 (2009): 93–112.
Bigalke, Bernadett. "Warum soll sich ein Theosoph vegetarisch ernähren? Vom 'Astralleib' und 'Magnetismus des Fleisches'," in Mauss, Buddhismus, Devianz: Festschrift für Heinz Mürmel zum 65. Geburtstag. Edited by Thomas Hase et al., 265–82. Marburg: Diagonal Verlag, 2009.
Bigalke, Bernadett, and Katharina Neef. "Mitleiden oder Energie sparen? Buddhismus und Monismus in Leipzig um 1900." Stadtgeschichte: Mitteilungen des Leipziger Geschichtsvereins e.V, 2008, 205–36.
Bigalke, Bernadett. "Frischobst und Okkultismus als Heilswege: Konversionen im alternativkulturellen Milieu Leipzigs um 1900." Medizin, Gesellschaft und Geschichte, 27 (2008): 205–46.
Bigalke, Bernadett, and Henning Nuissl. "Altwerden am Stadtrand: Zum Zusammenhang von Suburbanisierung und demographischem Wandel." Raumforschung und Raumordnung, 65/ 5 (2007): 381–92.