all
research fellows
Carlos Nazario Mora Duro, PhD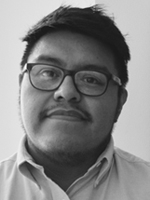 Areas of Interest
Secularisation and religiously unaffiliated
Religion in Latin America
Internet and Cultural Studies
Migration and integration
Desecularisation of the State in Latin America? The Convergence of Politics and Religion in Mexico
The recent political and social instabilities in Latin America appear to have been accompanied by an increased presence of religious actors in public spaces, as well as agreements between public institutions and religious actors and organisations. This project will analyse the characteristics of this convergence in Mexico in particular, and consider its implications with regard to the secularisation of the state in terms of the expected autonomy of political and religious spheres.


State authority entails negotiations between institutional and non-institutional actors, which sometimes involve non-secular elements such as religious symbols and rituals. As a result, public administration may appear to have a different rhythm to other spheres of society, and may even contradict the secular premise of religion being one human possibility among many others in the public space. Despite this, I argue that the recent convergence between politics and religion in Latin America is a product of the general process of secularisation and does not reflect a turning point with a shift towards desecularisation.


To examine this conjecture, I will focus in particular on the current Mexican government, which has been headed by President Andrés Manuel López Obrador since December 2018. López Obrador's political agenda and campaigning have highlighted the quest for social justice, the fight against institutional corruption, and the inclusion of historically disadvantaged groups as means of bringing stability and public security to the country. At the same time, López Obrador has been criticised for his proximity to religious actors and organisations, and his use of moralising speech in government communication.


My research objectives are 1) to describe the convergence between the political and the religious spheres as understood by the current Mexican administration; 2) to analyse the scope of this development in terms of Mexico's national history of laïcité and the political autonomy of the state; and, 3) to place these specific observations in the wider context of political and social conflicts in Latin America.


I intend to take a qualitative approach, which will entail looking at presidential speeches and social programmes that involve crossover between public institutions and religious actors and organisations. Particular attention will be paid to social dialogues, relevant news stories, trending topics in social media communication, and interviews with key individuals.
Biography
Relevant Publications
Mora Duro, C. N. "Milagritos Virtuales Y E-Rejía: El Resurgimiento De Los Exvotos En El Contexto De Internet." Paakat: Revista de Tecnología y Sociedad 9, no. 17 (2019): 1-13.
Mora Duro, C. N. "Agnostics and Atheists in Mexico." In Encyclopedia of Latin American Religions. Edited by Henri Gooren. Cham: Springer, 2018.
Mora Duro, C. N. "Población Sin Religión En América Latina." In Diccionario De Religiones En América Latina. Edited by Roberto Blancarte Pimentel. México, D.F.: Fondo de Cultura Económica; El Colegio de México, 2018.
Mora Duro, C. N. "Tensiones De La Laicidad En El Espacio Público: A Propósito De La Movilización Del Frente Nacional Por La Familia." In Familias, Iglesias Y Estado Laico: Perspectivas Antropológicas. Edited by C. Garma. México: UAM-Iztapalapa, 2018.
Mora Duro, C. N. "Entre La Crítica, La Autonomía Y La Indiferencia: La Población Sin Religión En México." Estudos de Religião 3, no. 31 (2017): 157-78.
Mora Duro, C. N. "La secularización individual: un modelo sobre la transmisión intergeneracional de la religión." In Miradas multidisciplinarias a la diversidad religiosa mexicana. Edited by Luis J. Martínez Gómez and Genaro Zalpa Ramírez. Tijuana: Juan Pablo, 2016.