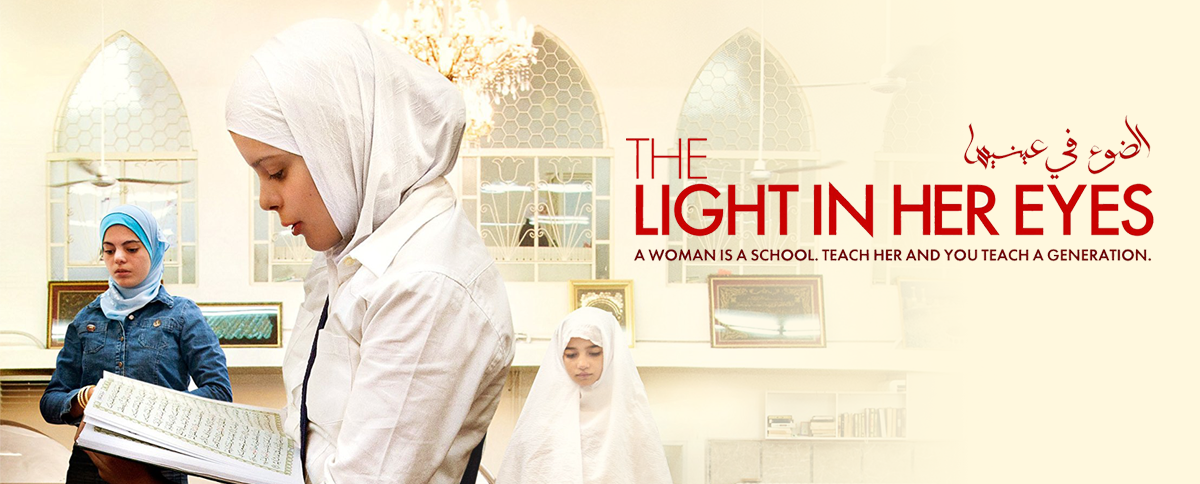 The Light in her Eyes
24.03.2021, 19 Uhr

Cinématèque Leipzig in der nato, Karl-Liebknecht-Straße 46
Eintritt frei, Spenden willkommen


Aufgrund der aktuellen Situation in der Corona-Pandemie haben wir derzeit nur eine begrenzte Sitzplatzkapazität, wir empfehlen Ihnen, Tickets online zu reservieren. Reservierungen müssen 20 Minuten vor Beginn der Vorstellung abgeholt werden. Es ist auch möglich, dass wir einige Vorstellungen kurzfristig verschieben oder absagen müssen. Schauen Sie daher bitte immer vor Ihrem Besuch auf dieser Homepage nach, um sicherzustellen, dass die Vorführung wie geplant stattfindet.

USA/Syrien 2011, Dok, 87 min, Regie: Julia Meltzer, Laura Nix
Sprache: Arabisch mit englischen Untertiteln
Houda al-Habash ist konservative Muslima, Mutter und Predigerin. Bereits im Alter von 17 Jahren gründete sie in Damaskus eine Koranschule ausschließlich für junge Mädchen. Jeden Sommer vertiefen sich ihre Studentinnen dort ins strenge Studium des Islam, zusätzlich zu ihrer weltlichen Schulausbildung. Damit stehen Houda und ihre Schülerinnen in Widerspruch zu traditionellen Haltungen, die religiöse Bildung und das Gebet in der Moschee als ein Privileg der Männer sehen.
Houda fordert diese Tradition heraus und sieht in der Bildung von Frauen eine wesentliche Form der Gottesverehrung. Mittels der Koranlehre ermutigt sie ihre Studentinnen, einen höheren Bildungsweg einzuschlagen und am Arbeits- und öffentlichen Leben teilzuhaben, ohne dabei das klassische islamische Rollenbild als Ehefrau und Mutter aus den Augen zu verlieren.
Der Film zeigt eine bisher kaum bekannte Welt und wurde kurz vor Ausbruch der ersten Unruhen in Syrien 2011 gedreht.
Im Anschluss an den Film gibt es eine Diskussion.
+++
24 March 2021, 7 p.m.
Cinématèque Leipzig at nato, Karl-Liebknecht-Straße 46
Free entry, donations welcome

Due to the current situation in the Corona Pandemic, we currently have limited seating capacity, we recommend that you reserve tickets online. Reservations must be picked up 20 minutes before the performance starts. It is also possible that we may have to reschedule or cancel some performances at short notice. Therefore, please always check this homepage before your visit to make sure that the screening takes place as planned.

USA/Syria 2011, Documentary, 87 min; Directors: Julia Meltzer, Laura Nix
Languages: Arabic with English subtitles
Houda al-Habash is a conservative Muslim woman, mother and preacher. Already at the age of 17 she founded a Qur' an school in Damascus exclusively for young girls. Every summer, her students there immerse themselves in the rigorous study of Islam, in addition to their secular school education. This puts Houda and her students in conflict with traditional attitudes, which see religious education and prayer in the mosque as a male privilege.
Houda challenges this tradition and sees the education of women as an essential form of worship. Through the teaching of the Qur'an, she encourages her female students to pursue a higher education and to participate in work and public life, without losing sight of the classical Islamic role model as wife and mother.
The film shows a world hardly known until now and was shot shortly before the uprising in Syria erupted in 2011.
The screening will be followed by a Q&A.