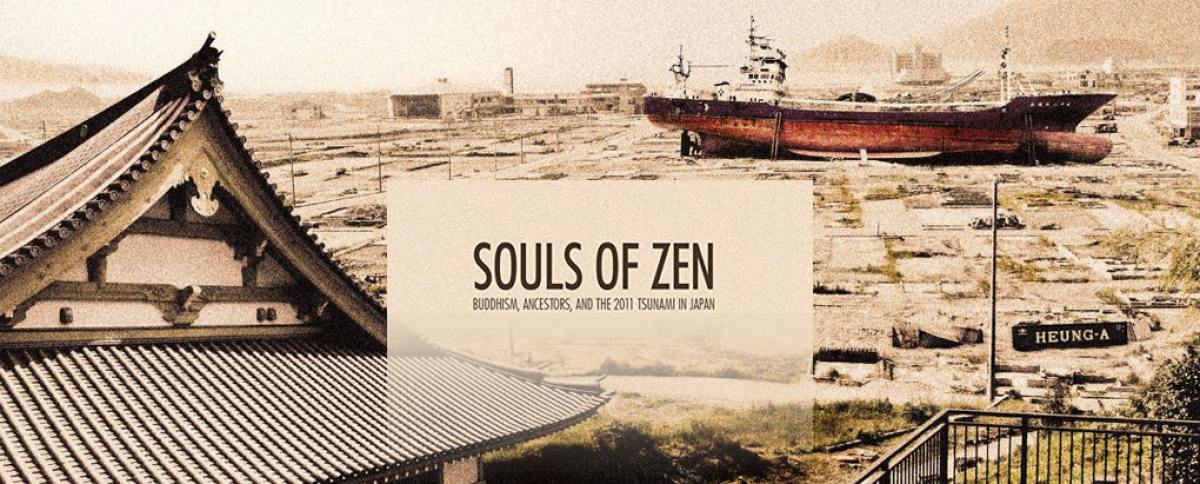 Souls of Zen: After the Tsunami – Buddhism, Ancestors, and the 2011 Tsunami in Japan
20.11.2019, 19 Uhr
Cinémathèque Leipzig in der nato, Karl-Liebknecht-Straße 46
Eintritt frei, Spenden willkommen

BRD 2012, Dok, 63 min, Regie: Tim Graf, Jakob Montrasio

Sprache: Japanisch und Englisch

Language: Japanese and English

"Souls of Zen: After the Tsunami – Buddhism, Ancestors, and the 2011 Tsunami in Japan" ist ein Dokumentarfilm über die Antworten des japanischen Buddhismus auf die dreifache Katastrophe – Erdbeben, Tsunami, Nuklearkatastrophe – in Japan im März 2011.
Der Religionswissenschaftler und Filmemacher Tim Graf arbeitete gerade in Japan an einem Dokumentarfilm über den Zen-Buddhismus, als durch das Erdbeben und den Tsunami fast 20.000 Menschen ums Leben kamen.
Der dann entstandene Film zeigt eindrucksvoll, welche Rolle der japanische Buddhismus sowohl bei der Betreuung der Hinterbliebenen und bei der Bestattung der Toten als auch beim Wiederaufbau der betroffenen Regionen spielt. Vor welchen Herausforderungen standen buddhistische Priesterinnen und Priester als Helfer im Katastrophengebiet? Der Film gibt Einblicke in den gegenwärtigen Zen-Buddhismus in Japan und reflektiert zugleich dessen komplexe Rolle in einer per Definition säkularen Gesellschaft, die von Naturkatastrophen, religiösem Pluralismus und demographischem Wandel geprägt ist.
Im Anschluss an den Film gibt es eine Diskussion.

+++

"Souls of Zen: After the Tsunami – Buddhism, Ancestors, and the 2011 Tsunami in Japan" is a documentary about the responses of Japanese Buddhism to the threefold catastrophe – earthquake, tsunami, and meltdown in the nuclear power plant of Fukushima – in Japan in March 2011.
Tim Graf – anthropologist, scholar of religion, and filmmaker – was just working on a documentary about Zen Buddhism in Japan when the earthquake and tsunami killed almost 20,000 people.
The film that followed impressively shows the role played by Japanese Buddhism in caring for the survivors, burying the dead and rebuilding the affected regions. What challenges did Buddhist priests face as helpers in the disaster area? The film provides insights into contemporary Zen Buddhism in Japan and at the same time reflects its complex role in what is by definition a secular society characterised by natural disasters, religious pluralism and demographic change.
The screening will be followed by a discussion.