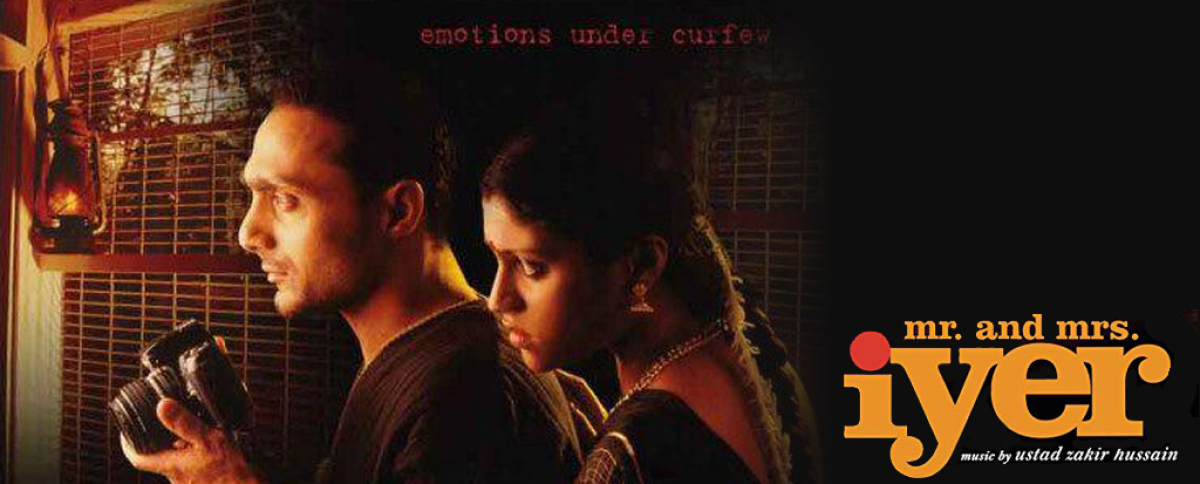 ​Screening Religion: "Mr. and Mrs. Iyer" by Arpana Sen
Mr & Mrs Iyer was conceptualized as a love story set amidst violence but ultimately says a lot more. On the whole, the film reflects ace director Aparna Sen's humanism depicted through finely blended emotions. It mirrors a frightening reality in the wake of the WTC attacks and the Gujarat carnage through a masterfully told story. A masterful Sen captures contemporary India, its people and the social and political complexities within which they exist.

"Nothing brings out the poignancy of love than when pitted against the ruthlessness of war..." says Sen, "There is no war in my country - not yet — but the communal riots that have torn it apart in recent months have been no less violent, no less ruthless."

Meenakshi Iyer played by Konkona Sen Sharma and Raja Chowdhury (Rahul Bose) get introduced to each other through a common friend just before they embark upon their journey. Raja, a wildlife photographer, is requested by Meenakshi's parents to look after their daughter and baby grandson. Once aboard the bus, the two are forced to interact in order to pacify the wailing baby.

Once this relationship is established, Sen goes on to the larger story, which is used as a canvas to depict human nature — the bus enters a riot-stricken zone where Hindu extremists are looking for Muslim blood in retaliation to similar incidents in the village. Some of them enter into the bus and kill an old Muslim couple. There is a curfew, and the passengers are left stranded in various hotels of the nearest town. Meenakshi and Raja with the help of a police officer put up in a forest guesthouse — a poignant part of the film where two individuals put together under extreme circumstances, and discover each other while drawing mutual support.

Meenakshi is characterized, especially well as a Tamil Brahmin woman teeming with beliefs that are alien to a very urban Raja. He is shocked at her reaction when he tells her that he is a Muslim (Jehangir) despite his Hindu sounding name, Raja. Although Meenakshi's immediate reaction is despair at having drunk from his water bottle, she nevertheless becomes his savior when she introduces him to the assailants of the bus as her husband Mr. Mani Iyer. At the same time, a Jewish passenger, in order to save his own skin (he is circumcised) voluntarily identifies the Muslim couple. The only one to protest on realizing their fate is a young girl who along with her friends had attracted irritated comments from the elderly in the bus through the initial parts of the journey. Mr & Mrs Iyer portrays the socio-political conditions of India, but what it does even better is to explore human nature and relationships under various circumstances.

Date: 10 September, 7-9 p.m.
Venue: Café Alibi (Beethovenstraße 6)