01.11.2022
Public Transportation on Saturdays – Revisiting Jewish Secularity in Israel
This article was completed before the Israeli elections on 1 November 2022.


By Lydia Ginzburg


Since the beginning of 2022, Israeli media has publicised a decision by Merav Michaeli, Minister of Transportation and leader of the left-wing Avoda party, approving public transportation on Saturdays, and thus putting an end to what she has described as a "siege over weekends".1 The media coverage of this issue has become especially heightened in October 2022.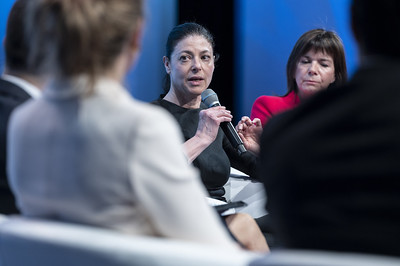 Merav Michaeli at the International Transport Forum in Leipzig (Marco Urban)
Yes, in the twenty-first century, Israel is said to have no public transport on Saturdays due to religious restrictions. This is not a comprehensive description of the situation, however, and the reality is much more complicated, shedding light on Jewish secularity in Israel. Following its definition by the Multiple Secularities research group, secularity here means the "symbolic distinctions and institutional differentiations" between the religious and the secular, resulting from contact, conflict or negotiation.2 As a matter of fact, some public transportation is already available on Saturdays, for example in Arab towns and villages, in the northern metropolis of Haifa, and on a line from Tel Aviv to the Red Sea resort city of Eilat. There have been recent further additions to this list in other cities.


When the new Israeli government was established in July 2021, Merav Michaeli declared the issue of public transportation to be a local one, giving each local council the authority to reach its own decision on the matter. Several councils held a vote on the issue, but this approach was not universal. Despite there being a considerable majority in favour of public transportation on Saturdays in Israel, many councils – and the national government – have shied away from referenda on the issue. The usual explanation for this hesitancy is a reluctance to break the status quo between the state and leaders of religious groups. This oft-mentioned status quo is an agreement on religious observance in different venues of public life, reached before the foundation of the state of Israel in 1947. It continues to affect many areas of legislation, as well as institutional and daily life – from food restrictions to marriage. One of the most important issues is the observance of Shabbat (including the ban on work and lighting fire by Jews). Predictably, the leaders of the religious political parties in opposition, Arie Der'i, Bezal'el Smotrich, and Uri Maklev have, in their election campaign, criticised Michaeli's decision as "jeopardizing the Jewish character of the state". The very mention of the word 'state' indicates a deviation from a purely religious narrative, however. The opposition leaders have combined religious and nationalist rhetoric in denouncing Michaeli as a "demagogue", a "failed transportation minister", and a danger to Israel as a Jewish and democratic state.3 Perhaps the role of religion is not as central as initially assumed? Taking a closer look at the recent past, one discovers that although the observance of Shabbat does play an important role in Israeli legislation, the legalisation of some level of public transportation on Saturdays was signed into law in 1991, by a right-wing government that included four major Orthodox and ultra-Orthodox parties.

So, let us instead turn to a more profane explanation – that of money: The cost nationally of recruiting drivers on their day off, including their insurance and the maintenance of routes and vehicles, is estimated to be between 500 million and 1 billion shekels (€150 to 300 million). It was for this reason that Netanyahu's Likud government shelved the idea, after investigating its feasibility. Five years ago, the Likud government claimed that there was no vital need for public transportation on Saturdays. Nonetheless, the existence of a number of private and local transportation initiatives trying to make up for the shortfall in public transportation on Saturdays (an example of which can be found here) runs counter to this narrative. Some local councils embrace such local initiatives (as in Tel Aviv) or at least tolerate them on the condition that they are not officially endorsed (as in Herzliya).

Despite clear economic demand for public transportation on Saturdays, and a lack of immediate religious objection, the national government and many local councils are reluctant to challenge the secular-religious status quo on this issue. This, I suggest, could potentially be explained by the concept of parrhesia. The term comes from Ancient Greek, then understood as the Socratic obligation to speak truth in public (see Foucault, 2010). Its meaning has not shifted far since then. In Modern Hebrew, parrhesia means publicity or public announcement, requiring religious devotees to publicly announce their Jewish faith, and consequently perform related duties. I suggest that the issue at stake here is not Shabbat observance per se, nor an institutional rupture with the status quo, but a reluctance to stand by the decision in public. This suggestion is supported further by the fact that, though 75% of Israelis are in favour of public transportation on Shabbat,4 the voices objecting to the implementation of the law are much louder. Even potential allies of Michaeli, the secular or moderately religious, are not sparing in their criticism of her. They lament her being too late or inefficient, and incapable of executing the decision.5 They have also described her as being too radical and too explicit, supporting our explanation.



"Public Transportation on Shabbat in Jerusalem" (zeevveez; cc-by-2.0)
In an atmosphere of political instability, with juxtaposing processes of secularisation and reinforcement of religiosity in the public sphere, the ongoing struggle between civil rights, religious demands and neo-liberal discourses in Israel is more evident than ever. It certainly has its institutional ricochets in the spheres of media, politics and economics, pulling the minister and her office into lengthy debates. The scrutiny of public transport on Shabbat underlines the relevancy of the Multiple Secularities perspective, in examining the entangled connections between religious and secular institutions, discourses and daily practices, in order to better understand different configurations of secularity on a global scale.

References:

1 See https://www.timesofisrael.com/michaeli-promises-to-run-tel-aviv-light-rail-on-shabbat-starting-next-year/

2 Wohlrab-Sahr & Burchardt, 2017: 13.


3 See https://www.timesofisrael.com/minister-asks-if-tel-aviv-light-rail-can-run-on-shabbat-sparking-orthodox-ire/


4 According to a 2022 poll by the advocacy group Hiddush, 75% of the Israeli public support public transportation on Shabbat, regulated either by local authorities (38%), or by the national government (37%). See https://hiddush.org/article-23582-0-2022_Israel_Religion__State_Index.aspx


5 For example, see https://time.news/light-rail-on-saturday-starting-another-year-marev-michaeli-only-deceives-herself/